Nemo
is the titular character from the Finding Nemo movie and its upcoming TV show.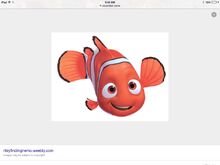 Relationships
Edit
Marlin is Nemo's father. He is very protective over him.
Nemo and Dory are very good friends. Whenever Dory forgets something, Nemo usually helps her to remember.
Nemo and Pearl are very good friends, but Pearl has a secret crush on him. Whenever Pearl gets frightened, it's usually Nemo who helps her out.